Your test centre should clearly explain the results of your test.
If you have questions that were not explained, or that still worry you, ask the test centre first.
Rapid blood tests show two lines if positive or one line if negative, in a similar way as a pregnancy test (see Figure 1).
Results from laboratory tests are given as negative, positive or indeterminate.
Negative or non-reactive means you are HIV negative. You do not have HIV (based on the window period and no recent risks).
Positive or reactive means the test shows you are HIV positive and you have HIV infection.
Indeterminate means the test result was unclear and needs to be repeated.
Figure 1: Example results from a rapid test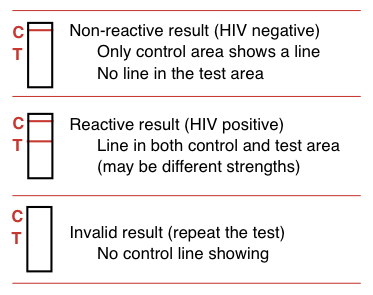 Category: HIV Testing